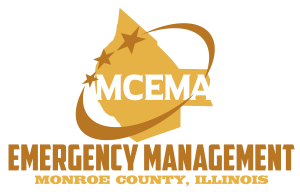 The mission of the Monroe County Emergency Management Agency is to protect the lives and property of Monroe County citizens before a disaster strikes through planning, training and mitigation and to reduce human suffering after a disaster strikes by coordinating Monroe County's response and recovery efforts with assistance from local agencies, neighboring counties, the State of Illinois, Federal Agencies and volunteer organizations.
---

CodeRED is an ultra-high-speed telephone communication service for emergency notifications such as chemical spills, missing child or evacuation notices.
The service also allows consumers to opt-in for weather warnings.
To sign up for CodeRED and/or the weather warning portion, click here or the picture above.
We encourage all residents to add their cell phones and choose the text message options for the alerts that you would like. Text message notifications are faster than the calling features.
Standard text messaging fees apply from your carrier.
---
Monroe County Citizens Corp Council
The mission of Citizen Corps is to harness the power of individuals through education, training, and volunteer service to make communities safer, stronger, and better prepared to respond to the threats of terrorism, crime, public health issues, and disasters of all kinds.
For more information about the Monroe County Citizen Corps Council, contact Ryan Weber at 618-939-8681 x 531.
---
​
Strengthening readiness efforts for all Illinois communities during National Preparedness Month
Press Release – Thursday, September 07, 2023
SPRINGFIELD – September is the start of National Preparedness Month where the Illinois Emergency Management Agency and Office of Homeland Security (IEMA-OHS) and our county Emergency Managers are highlighting the importance of all readiness efforts across the state.
"A disaster preparedness kit and immediate access to the best resources to current safety information is so vital especially during an emergency," said Illinois Emergency Management Agency and Office of Homeland Security (IEMA-OHS) Director Alicia Tate-Nadeau. "Additionally, we must continue to strengthen our communities, including older adults, and inform their caregivers ahead of any disasters."
"Your disaster preparedness kit and communications plan should be designed to support your needs, but also the needs of those who may depend on you such as family, pets, and neighbors" said IEMA-OHS Office of Emergency Management Deputy Director Clayton Kuetemeyer. "While a three-day supply of food, water, and medications are standard needs, everyone should supplement their kits with specific items that could help them during an emergency."
1-Assess your needs: Everyone has unique needs. There are several factors that can affect the steps you need to take to prepare yourself and those you care for. Whether you care for pets, children, or have a medical condition or disability, it is important to know what your family will need to stay safe.
2-Make a plan: Once you've assessed your needs, you can plan for what you'd do, where you'd go, and what to bring if a disaster strikes. Your emergency supply kit should include items that meet your individual needs.
3-Engage your support network: Get to know your neighbors because they, along with your family and friends, can be a support network before, during and after a disaster by providing emotional and practical support.
Your emergency preparedness kit should at least include these preparedness items:
Water (one gallon per person per day for three days)
Non-perishable food (three-day supply or ready-to-eat canned or other foods that require no refrigeration or cooking, non-electric can opener, utility knife)
Flashlight with extra batteries
First aid kit
Battery-operated radio or weather radio with extra batteries
Extra battery packs and cables to charge your cell phones Copies of important family documents stored in a waterproof bag or container
Cash (small denominations)
Hand sanitizer/disinfecting wipes
Illinois Emergency Management Agency and Office of Homeland Security (IEMA-OHS):
Ready.Illinois.Gov
Contact Emergency Management