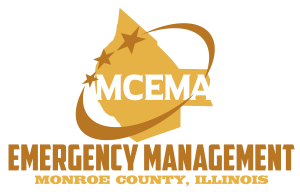 The mission of the Monroe County Emergency Management Agency is to protect the lives and property of Monroe County citizens before a disaster strikes through planning, training and mitigation and to reduce human suffering after a disaster strikes by coordinating Monroe County's response and recovery efforts with assistance from local agencies, neighboring counties, the State of Illinois, Federal Agencies and volunteer organizations.
---

CodeRED is an ultra-high-speed telephone communication service for emergency notifications such as chemical spills, missing child or evacuation notices.
The service also allows consumers to opt-in for weather warnings.
To sign up for CodeRED and/or the weather warning portion, click here or the picture above.
We encourage all residents to add their cell phones and choose the text message options for the alerts that you would like. Text message notifications are faster than the calling features.
Standard text messaging fees apply from your carrier.
---
Monroe County Citizens Corp Council
The mission of Citizen Corps is to harness the power of individuals through education, training, and volunteer service to make communities safer, stronger, and better prepared to respond to the threats of terrorism, crime, public health issues, and disasters of all kinds.
For more information about the Monroe County Citizen Corps Council, contact Ryan Weber at 618-939-8681 x 531.
---
July is Extreme Heat Safety Month
SPRINGFIELD – The Illinois Emergency Management Agency (IEMA) is sharing tips to beat the heat because July is Extreme Heat Safety Month. "We've already had 100 °+ temperatures for several days in June, and it's clear that extreme heat is dangerous," said IEMA Deputy Director Scott Swinford. "Take precautions and reduce your risk to avoid heat exhaustion by staying cool and well hydrated."
High temperatures paired with significant humidity can lead to increased risks of heat cramps, heat illness, heat stroke, and heat exhaustion.
 Take breaks in the shade
 Drink plenty of water
 Avoid overexertion and strenuous outdoor activities
 Wear light-colored, loose-fitting clothing that covers the skin to prevent sunburn
 Use sunscreen
 Don't leave children or pets in a vehicle – Look before you lock!
 Keep curtains and shades closed at home
 Take cool showers or baths
 Avoid using your oven
 If you don't have air conditioning, visit a cooling center, store, or mall
 Check on family members, seniors, and neighbors
 Follow our five NWS offices that cover Illinois (Chicago, Quad Cities, Lincoln,
Paducah, and St. Louis)
Extreme heat is high heat and humidity with temperatures above 90 degrees for at least two to three days. Be better prepared for the weather and learn about specific heat terms here: https://www2.illinois.gov/ready/hazards/Pages/HeatTerms.aspx
More tips on extreme heat safety can be found here:
https://www2.illinois.gov/ready/hazards/Pages/ExtremeTempsHot.aspx
Illinois Emergency Management Agency (IEMA): www.Ready.Illinois.gov
IEMA Twitter | IEMA Facebook/Meta | IEMA Instagram | IEMA YouTube
Contact Emergency Management