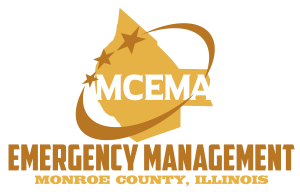 The mission of the Monroe County Emergency Management Agency is to protect the lives and property of Monroe County citizens before a disaster strikes through planning, training and mitigation and to reduce human suffering after a disaster strikes by coordinating Monroe County's response and recovery efforts with assistance from local agencies, neighboring counties, the State of Illinois, Federal Agencies and volunteer organizations.
---

CodeRED is an ultra-high-speed telephone communication service for emergency notifications such as chemical spills, missing child or evacuation notices.
The service also allows consumers to opt-in for weather warnings.
To sign up for CodeRED and/or the weather warning portion, click here or the picture above.
We encourage all residents to add their cell phones and choose the text message options for the alerts that you would like. Text message notifications are faster than the calling features.
Standard text messaging fees apply from your carrier.
---
Monroe County Citizens Corp Council
The mission of Citizen Corps is to harness the power of individuals through education, training, and volunteer service to make communities safer, stronger, and better prepared to respond to the threats of terrorism, crime, public health issues, and disasters of all kinds.
For more information about the Monroe County Citizen Corps Council, contact Ryan Weber at 618-939-8681 x 531.
---
July is financial preparedness month
SPRINGFIELD, IL – Will you be prepared if a disaster strikes? Reports indicate 40-percent of adults are not financially prepared to cover an unexpected expense of $400. A disaster or emergency can strike anytime, anywhere. In these stressful times, having access to personal financial, insurance, medical and other records is crucial for starting the recovery process quickly and efficiently.
Emergency Savings
Start by taking small steps.  The best way to be financially prepared for a disaster is by saving.  A rainy-day fund will allow you to invest in your safety by setting aside monthly for emergencies.
Operation HOPE
can help strengthen your financial preparedness through the
Emergency Financial First Aid Kit (EFFAK)
. The EFFAK can help you start to prepare by offering guidance on managing finances, offers insights on dealing with credit scores, and describes what to expect should a disaster strike your community. All of this will help families prepare for both the big incidents and minor emergencies.
Insurance
Before a disaster strikes, review your insurance coverage.  Insurance is the fastest way to recover after a disaster.  Review the hazards that exist in your community (flood, tornado, earthquake, ect) to ensure proper coverage.  Homeowners and renters insurance do not typically cover flood damage. Talk to your agent to find out what is covered in your existing policy and ask about the availability of flood insurance.
It is also recommended that you document your personal property with photographs to expedite future insurance claims.
Safeguard Critical Documents
Save digital copies of your household identification, financial and legal documents, medical information and insurance policies in order to quickly and safely access them in the event of an emergency or disaster.  If you cannot save them digitally, gather all the documents store them in a safety deposit box.
Contact Emergency Management